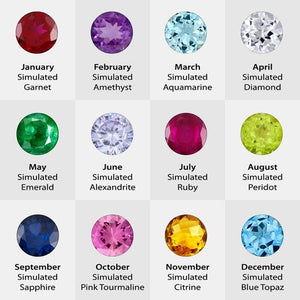 Tender Foot Jewels
BIRTHSTONES
Regular price
₱300.00
₱0.00
Unit price
per
People hold various beliefs about birthstones. Some people believe jewelry sets with birthstones merely commemorate the month of their birth, but other people ascribe spiritual, curative, or even mystical properties to the gems contained in birthstone jewelry. Originally using that for medicinal benefit, invoking specific traits, and plentiful other reasons, and evolving to characterize and enhance powers of zodiac signs.
The size of stone is approximately 1-2mm big.
Please choose your non-DNA inclusion combination carefully. These are considered customization embellishments and Tender Foot Jewels is not responsible for any outcome that is not favorable due to embellishment choice, and no refunds or replacements will be made. By purchasing any piece, you agree to all terms and conditions outlined on this website. 
**PLEASE NOTE that glitter, flecks, and flakes tend to sink to the bottom of a molded piece before it hardens. For example, the embellishment adds may be more concentrated at the bottom of a pearl, rather than at the top.**
---
Share this Product
---