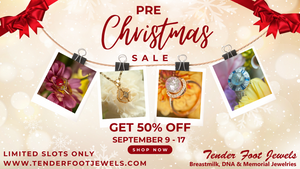 There will be very limited slots up for grabs to get your fine art keepsake pieces of jewelry that are up to 50% discount. Again, it is very limited. We can only accommodate 20 slots until December this year so better be ready.

Cut-Off Dates For Orders Requiring Delivery Before Christmas Day 2023
---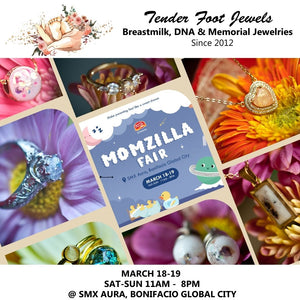 Last year we have seen the clamor of women having their own gathering at the Momzilla Fair at The Fifth Rockwell. Hundreds of women along with their families were blessed and indeed had a great time.We are so excited because, Momzilla Fair is happening again on March 18-19, 2023 and it is fast approaching and we are joining them again! And this time on a much bigger and grander venue at SMX Aura, Bonifacio Global City.It's going to be two full days of learning, mingling, and getting to know hundreds of other fantastic talks and vendors at this extraordinary event!Momzilla...
---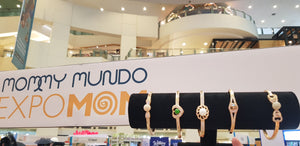 Many parents want their memories to last when it comes to their newborn children. Most hide the navel (umbilical cord), the first cut of nails and hair even its first footprint. Making jewelry from mother's milk is not new. It's been a long time since Tender Foot Jewels did it.The owner, Imelda Custodio started her interest in making her first child Albert born in 2009. Until now, 2022 is still going strong.Love to have a little memento of your nursing/motherhood journey? Our exquisite breastmilk, DNA and memorial jewelries are now 30% off! Find out more at booth! Why wait? Make...
---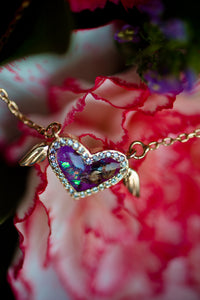 A message of deep feelings and the highest level of metal smithing along with preservation of your life's real milestones. Our creations remind us of the importance of jewelries that extends far beyond the material value and setting the new tradition in fine art keepsake jewelry. Discover the latest styles from Tender Foot Jewels. Unique range of jewelries that you can personalise your pieces. Shop our most recently added styles.  LOVE - HEART PENDANT QUENCEY - HEART PENDANT AMELIA - WINGED HEART PENDANT SALLY - SQUARE PENDANT DOROTHEA - DOUBLE HEARTS PENDANT ODILIA - OVAL DOUBLE SIDED CHARM BEAD BAILEY - BUTTERFLY PENDANT THES...
---
• SALE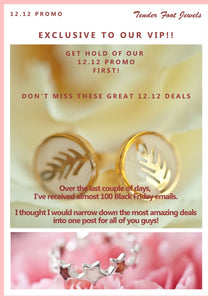 Hello lovely! Over the last couple of days, I've received almost 100 Black Friday emails. I thought I would narrow down the most amazing deals into one blog post for all of you guys! 12.12 is probably the best time to "stock up" on all the breastmilk, DNA and memorial jewelries that you will need. I'm personally eyeing a couple of these deals myself!   Click here to check out this year's round-up of my favorite 12.12 deals.​ ​ Can't wait? I sure can't! I'm already striking things off from my 12.12 wish list... ​ So, make sure you bookmark...