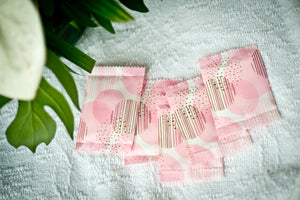 Tender Foot Jewels
Milka Powder
Regular price
₱750.00
₱0.00
Unit price
per
My Breastmilk Preservation Powder is the result of years of hard work (since 2012), research, trial, and error. This consists of a special blend of 7 NON-TOXIC and organic ingredients, that not only transform your breastmilk into a workable powder form but also prevent the growth of bacteria and mold. This professional preservation powder has been Lab-tested.
Without preservation elements like this, adding straight breastmilk, or even pure dried breastmilk to resin will discolor, spoil, and mold after time. Breastmilk Preservation Powder will beautifully preserve your precious breastmilk, and keep your keepsake looking bright and beautiful, with proper care and love!
A pre-measured packet work with 5mls of liquid breastmilk takes out the guesswork, and makes preserving your breastmilk so easy! Each batch is tested and approved prior to packaging. You will need one sachet to preserve breastmilk or breastmilk substitute, and your clients only need to send 5ml breastmilk! The Breastmilk Preservation Elements is now available from us and can be shipped domestically and internationally.
PLEASE NOTE:
This is ONLY preservation powder. DIY Keepsake Jewelry kits can be purchased separately. This turns your milk into a powder and does not include a hardener. Jewelry kits with hardeners can be purchased separately.
While this is carefully measured and is tested, tried and true formula, please understand that your breastmilk sample may react differently, as in it may preserve in a different texture or color. While rare, discoloration can occur. Tender Foot Jewels is not responsible for your breastmilk reacting unfavorable, and refunds will NOT be given. If this happens, please contact the studio, and we will happily replace your powder proven you have followed the instructions of use that are given along every order.
This is also perfect for existing DNA Artists to add to a DIY Kit or to use for their own professional preservation.  Approved credited DNA artists are eligible for a wholesale discount, email us at tenderfootjewels@gmail.com for further information on the application for wholesale.
The price indicated is for 1 sachet and comprehensive instructions on how to use also included.
---
Share this Product
---